Message from VC
December 7, 2021
2022-10-06 7:03
Message from VC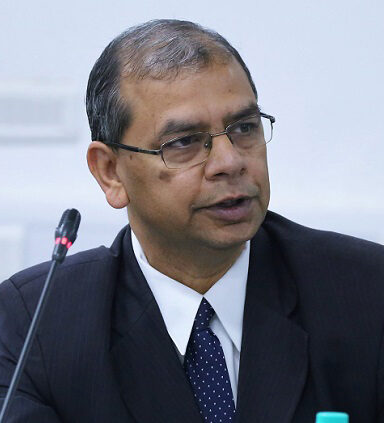 It is a great honour and privilege to be leading an educational institution of the stature of JK Lakshmipat University. The university was set up by JK Organisation, a 125-year old industrial house that has contributed to nation- building not only through industrial activities but also through philanthropic endeavours including those in the field of education. Backed by such a legacy, we have a huge responsibility to ensure that our graduates attain higher levels of academic excellence and become the future leaders of India.
I strongly believe in the dictum that universities are run by academicians and not administrators. And thence having a great faculty becomes a prerequisite for an educational institution to achieve academic excellence. We follow the mantra that most top universities believe in; that every new faculty should improve the overall quality of an academic institution. Although, it is not easy to follow, especially when you already have an excellent faculty; we continue to expand our horizon and engage with young and dynamic new age scholars and researchers.
We believe in providing global education to all our students. And it is not just having a curriculum co-created with guidance from sharp minds from across the world, but actually being taught by faculty with global teaching experience. We have a number of international partnerships and collaborations through which our students can spend a semester or two in top universities around the world, or take lateral admission to their programme and have easy access to their graduate studies. These include University of Florida, University of Amsterdam, University of Massachusetts, University of Birmingham, and many more. Our students also get to spend a semester in some of the top institutions in India including IITs and IIITs.
We provide education at undergraduate, postgraduate, and doctoral levels in engineering, design, and management. Currently, we have students from 22 states studying in JKLU, and we hope to become even more diverse in the coming years. The university provides ample opportunities to its students to develop their interests and follow their passion. We have a number of student clubs and societies for this purpose.
Moving ahead, we want to ensure that all our programmes have an interdisciplinary approach. Today, every manager needs to understand AI and Data Science. Every designer needs to be able to include sensors and automation in designs. Every engineer needs to know about economics and finance. In this direction, we continue to expand our partnerships with more top-class universities in India & abroad and leverage technology advancements to enhance learning for our students. Though, Covid has caused immense fatigue in people due to an overexposure to online learning, I am sure when all of us are back in the classrooms once again, we would still love to learn online from great minds who can not be physically present inside our classrooms. In future, we plan to strengthen our knowledge creation capabilities with a focus on industrial consultancy, technology development and research publications in top venues.
All the stakeholders of JKLU look forward to working together to ensure that we keep marching towards excellence in order to attain our rightful place in the galaxy of great universities.
Jai Hind!